Tradition, Consistency and Modern Technology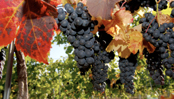 The Anton Bauer family winery is in its fourth generation. Since 1992, Anton Bauer has been responsible for managing the winery. He continues to make the traditional white wines (Gruner Veltliner and Riesling) in the Donauland region (Grüner Veltliner and Riesling), but has proven that this area can also produce excellent red wines.
Along the Danube River lie the hills of the Wagram. Its south-facing slopes with terraced vineyards, loess soil, and exceptional microclimate are responsible for producing high quality grapes. Ecological cultivation, bio-fertilization and yield reduction are necessary to guarantee the best possible harvest, and modern cellar techniques are used to ensure that this high quality ends up in the bottle.
Anton Bauer is not just following international trends. His wines are true to the terroir. These wines reflect the soil, the climate, the grape variety and the Anton Bauer touch.
---
check out the new Anton Bauer Movie
http://www.antonbauer.at/video/movie2006.wmv
Press Release – Gault Millau Austria 2007
Weingut Anton Bauer is recognized as leading winemaker
Winemaker Anton Bauer has just received rave reviews from Gault Millau in their recent evaluations and is ranked among the Top 10 Austrian white wine winegrowers, a growing and highly competitive field.
Gault Millau Austria has given high ratings to the wines of Anton Bauer of Feuersbrun, Austria in the Wagram region. Bauer's Gruner Veltliner Grande Reserve 2005 received 19 points on a scale of 20. This rating places Bauer in the Top10 white winemakers in his country. The Top 10 list is typically dominated by the wines of the well-known Wachau and South Styria winemakers. Anton Bauer views this as not only a confirmation of his years of hard work, but also a statement for the quality of the Wagram's terroir. "Through hard work, one can select grapes from the Wagram's sloped Loess soil to make complex and elegant wines. The wines have a certain creaminess, which is pleasant without being overshadowing the fruits and other flavors. "
Anton Bauer's places his emphasis on the Gruner Veltliner varietal. The 18 point rating for his Gruner Veltliner Rosenberg 2005 shows that Bauer can produce a broad range of wines. He demonstrates an ability to draw out the key characteristics of each vineyard and highlight its advantages. "The careful selection of the perfect grape clusters is particularly important to me. During my analysis, the balance between the acid level and extraction are most essential, the ripeness alone is not determinant. With my Gruner Veltliner Grande Reserve 2005, the selection of the Barriques plays an additional and substantial role: this gives this wines its wonderful fullness in the nose, body and palate. "
---
"A constant strive for quality manifests itself beyond a merely presentable range of white and red wines at the Bauer winery and has captured the attention of a loyal public. The ambitious newcomer runs a small enterprise equipped with modern technology and takes a rigorous line in crop selection and vinification. The self-assured vintner has high-flying planes for the future. Like a great Chateau, he puts his best reds into custom-made wooden casks with the name Bauer stamped on them. Grüner Veltliner is produced in four categories, from the light Kabinett wine to the mighty Grande Reserve. The appealing "best of 2003" is a lively white blend with a butterscotch finish that marries well with shellfish. The red blends Ried Wagram and Wagram Reserve display power and complexity. Bauer is a new name with fine debut vintages that make colleagues sit up and take notice. The Bauer wines already sell well both in Austrian restaurants and abroad."
Peter Moser - Falstaff Publications





White Wines

The Grüner Veltliner Gmörk is a classic example of this varietal. Bright, ripe aromas of Granny Smith apples and clean citrus fruit dominate the nose of this wine. On the palate, the wine possesses crisp acidity as well as clean, pure citrus flavors that keep you coming back for more. This wine makes the ideal aperitif, but works equally well with fresh vegetables, fish dishes, fried chicken and of course, Wiener Schnitzel.

Wagram White (Chardonnay/Welschriesling/Pinot Blanc/Riesling)

A delicious aperitif, and our pick for best crowd-pleasing party wines. A skillful blend of 40% Chardonnay, 40% Welschriesling, 10% Pinot Blanc and 10% Riesling, it's multidimensional with superb balance. Floral aromas followed by ripe golden apple fruit, gentle acidity, pear and a touch of smokiness on the round finish.

A versatile food wine

Ried Rosenberg is one of the best-known vineyards in Austria, and produces some of the greatest Grüner Veltliner in the world. Very aromatic aromas full of round fruit balanced with crisp acidity. The distinct soil lends a pleasant mineral and white pepper note typical of this varietal. Pairs well with a wide range of foods including Asian cuisine and fish with fresh herbs. Excellent value and quality.

If you're a fan of Chardonnay and want to try something different, this is the wine. The grapes are sourced from the best rows of the famous Rosenberg vineyard, harvested in late October and early November to achieve perfect ripeness. Very Burgundian aromas followed by ripe orchard fruit, smooth mineral flavors and a long balanced finish. Excellent with full flavored fish dishes, cream sauces and roasted vegetables.

A classic style Riesling from a very stony vineyard site. The concentrated pear and orchard fruit is balanced with a distinct mineral note, rich acidity and a clean crisp finish. A versatile food wine that pairs nicely with pork, seafood, chicken and spicy foods. This is what great Riesling is all about.

This Rose has a deep rich color with very expressive, floral notes and round, red berry fruit flavors. The finish is fresh and long with more body and complexity than many Rosé's. It is perfect with roasted vegetables and grilled fish or pork.

Red Wines

This is a traditional Austrian grape variety. A very elegant wine, harmonious, filled with ripe black cherry and subtle mocha notes. The palete features ripe deep fruit with a gentle smooth medium bodied mouth feel. The finish is long and has slightly spicy peppery nuances. Austrian reds feature amazingly pure fruit flavors.

This rich sexy blend of Zweigelt, Blaufränkisch, Cabernet and Merlot is aged for 12 months in French oak. It is soft, juicy and complex with violet & licorice aromas, layers of plum, dark berry fruit, spice with a smooth silky finish. Although absolutely delicious on its own, it will also complement beef, duck, grilled pork, tuna and rich red sauces.

Pinot Noir from Austria! This wine, aged for 20 months in small French oak barrels, exhibits a typical pinot noir nose with strawberries, raspberries and floral notes such as violets. It will continue to develop with age. On the palate, the wine is full-bodied and has a long finish tasting of red berries.

35 % Cabernet Sauvignon, 20 % Zweigelt, 30 % Blaufränkisch, 5% Syrah and 10 % Merlot. Simply amazing effort for Austrian red wine blended from Cabernet, Blaufränkisch, Zweigelt, Syrah and Merlot, aged 18 months in new oak. The result is a full-bodied velvety smooth wine with hints of chocolate, rich red berries, coffee and spices. Enjoy with roasted lamb, beef tenderloin or prime rib. Wow!

Reserve Wines

The Reserve Riesling is our top selection from the best Riesling lots harvested very late and ultra ripe. Full-bodied with a clear, intense peach aroma, this world-class Riesling exhibits beautiful harmony of acidity, fruit and alcohol.

Grüner Veltliner Grande Reserve

Anton Bauer´s top selection of Grüner Veltliner is fermented and aged in 100 % new French oak. Incredibly complex, the ripe tropical fruit balances perfectly with toasty vanilla oak. It has a finish that goes on and on … Great stuff!

Cabernet Sauvignon from the Wagram

Our best lots of Cabernet Sauvignon are aged for 20 months in all new French oak. Full-bodied and loaded with black fruits, it balances perfectly showing only soft tannins to give you an incredibly satisfying long finish. This wine has it all!!

Grüner Veltliner Icewine

Delicious dessert wine from the Grossriedenthal. This area is known to produce outstanding icewines almost every year. Icewine (Eiswein) is produced from grapes harvested and pressed while still frozen. The watery content of the grape will remain in the press as ice. The concentrated sugary grape juice flows out as "liquid gold".