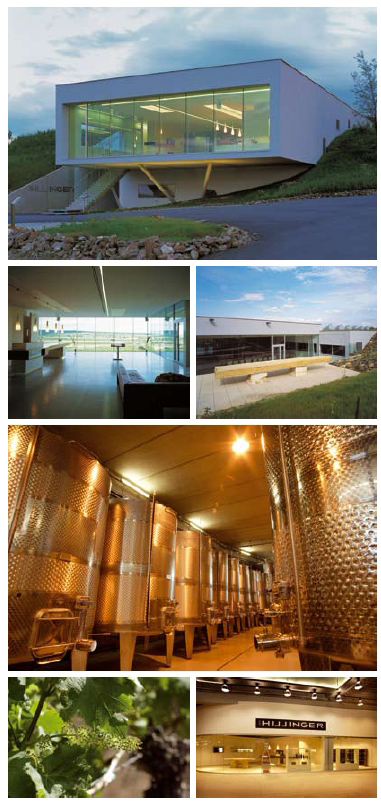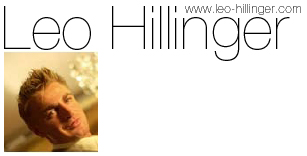 The Hillinger family has managed vineyards for generations in Jois in Burgenland. In 1990 Leo Hillinger - after a long apprenticeship and many years of travel in Germany and California - took over the wine estate and began with structural reforms, which were to make the winery a top wine-growing enterprise in the Neusiedl Lake region within a few years. Despite restructuring, investment in cellar technology and the integration of a completely new design, Hillinger remained true to the original values and qualities of viticulture.
Hillinger's predominate aim is to achieve quality viticulture. The predominant aim is to achieve a level of quality through integrated biological and biotechnical viticulture, which will find international acknowledgment. His efforts to raise the quality of the wine showed rapid success and was confirmed with international distinctions: Gold Medal for Design and Label in New York, 1993; Gold Medal for an Eiswein in Verona, 1993 and various awards in the Guide Gault Millau, Falstaff and A la Carte. His 1999 Cabernet Sauvignon was highly successful at the Beverage Testing Institute in Chicago. Today he is considered one of the top names in Austria.
Hillinger Pinot Grigio
This is one of the best Pinot Grigios outside of Italy. Dry, crisp and clean with plump orchard fruit flavors laced with almond and a bright fresh finish. Enjoy well chilled with scampi, grilled vegetables, sautéed chicken and pasta with white sauce.
Leo Hillinger Small Hill White
This thirst-quenching blend of Riesling, Sauvignon Blanc, and Muskateller is loaded with refreshing citrus fruit with undertones of fragrant white flowers. Its dry and racy finish is a great match for light seafood dishes, picnic fare or casual sipping.
Leo Hillinger Chardonnay
Austria's answer to the fresh village Chardonnays of Burgundy.
It offers aromas and flavors of ripe melon and soft tropical fruit.
The clean finish, unencumbered by oak, features bright citrus fruit accented with fresh mineral notes. Excellent with roasted chicken or sautéed white fish with dijon buerre blanc.
Leo Hillinger Secco
This Pinot Noir sparkling Rose is made in a Prosecco style. It has aromas of red berries which follow thorough on the pallet. It is beautifully balanced with a very pleasant, harmonious and refreshing long finish. Prost (Cheers)….
Leo Hillinger Small Hill Sweet
This TBA (Trockenbeerenausles) is characterized by its dark yellow color, a beautiful peach-orange nose combined with botrytis. The beauty of this dessert wine is the acidity, fruit, alcohol, and sugar balance, which comes together on your palate and gives you a never-ending finish.
Leo Hillinger Welschriesling
Delicate green apple overtones with a fresh citrus/lime backbone and a crackling dry finish. This varietal is no relation to the German Riesling grape, and is more akin to Portuguese Vinho Verde or Loire Muscadet in style. A refreshing aperitif or serve with shellfish, salads and creamy cheeses.
Leo Hillinger Sauvignon Blanc
Light lemon yellow with a green shimmer, delicate hints of stinging nettle and fresh grass in the aroma with white elderberry blossom. On the palate this Sauvignon Blanc is fresh with perfectly integrated acidity.
Leo Hillinger Hill 2
50% Sauvignon blanc, 50% Chardonnay. Intensive gold-yellow, scent very exotic with hints of mango, banana. On the palate it is voluminous and extremely supple with buttery nuances. The acidity is perfectly integrated. This wine is aged for 12 months in new Alliér and Troncais oak barrels.
Leo Hillinger Small Hill Rose
This is a gorgeous dry Rosé made from Pinot Noir with delicate wild red raspberry and strawberry flavors. A touch of spice and a bright finish make this a perfect match with soft cheeses, quiche and steamed shellfish.
Leo Hillinger Small Hill Red
This blend of Pinot Noir, St. Laurent and Merlot was aged for 3 months in French oak. Its fine, elegant nose leads to explosive dark fruit flavors, smooth soft tannins, and a lively long-lasting finish.
Great with grilled foods and barbeque.
Leo Hillinger Zweigelt
Zweigelt is a traditional Austrian grape variety. Brilliant ruby red color with fresh cherry/blackberry aromas. Reminiscent of a full-bodied Cotes-du-Rhone with deep berry fruit, pepper, zippy spice and a warm full finish. Enjoy with grilled meats and spicy vegetarian dishes.
Hillinger Cabernet Sauvignon
Yes, Cabernet Sauvignon from Austria. This wine has a vibrant dark Bordeaux red color, dense and mouth filling, with rich concentrated currant, black cherry, anise and mocha flavors. Beautifully focused, long and complex, it turns in to a long and supple finish.
Leo Hillinger Hill 1
25% St Laurent/25% Pinot Noir/25%Merlot/15% C.S./10% Zweigelt Delicate wood and black fruit aromas are the trademarks of our top wine, a Bordeaux-styled red called Hill 1. Incredible concentration and elegance on the palate with a full, long finish complete this world class wine.
Hillinger St. Laurent
This grape variety belongs to the Pinot Noir family but is more stylistically reminiscent of a Bordeaux. It is richer and more powerful than Pinot Noir with aromas of Amarelle cherries, plums and dark berries. Notes of spice, cocoa and fine tannins are featured on its lengthy finish. Pairs well with pork tenderloin, duck, thick grilled fish and game.
Leo Hillinger Pinot Noir
The 2004 Hillinger Pinot Noir shows a complex nose. The scent of rose petals commingles with cranberry and red cherry notes as the wine opens in the glass. Hints of minerals, violets, Chinese Five Spice, and vanilla intermingle with the dominant scent of red fruit. The finish is very long, and most pleasing.